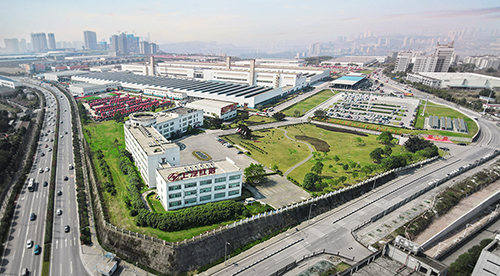 SAIC HONGYAN Automotive Co., Ltd (hereafter referred as to "HONGYAN"), is the only heavy truck enterprise under SAIC Group. HONGYAN has been manufacturing heavy trucks for over half a century. We continue to lead the upgrading of China's heavy truck industry by focusing on "SAIC HONGYAN, Innovate the Future," as well as "Reliable Technology, Safe and Reliable Products, and Enthusiastic Service."
HONGYAN is located in Liangjiang New Area, Chongqing City, China, with a registered capital of 4.1 billion yuan and more than 5,000 employees. It is a heavy truck manufacturing base with an annual output of 120,000 vehicles. As an international large-scale enterprise, HONGYAN has more than 300 first-class heavy truck dealers, more than 1,000 service providers, and global supply chain procurement of parts and components. Hongyan's heavy truck series products are exported to more than 40 countries and regions in the Middle East, Africa, Central America and Southeast Asia.
Products
With over 40 years of experience, we are able to offer a wide range of heavy duty trucks to our customers worldwide. tractor unit, dump trucks, cargo trucks, concrete mixer trucks, bulk cement trucks, and tanker trucks are some of the products we specialize in. Built to provide great driver safety, our vehicles provide high visibility and maneuverability, and meet rigorous crash test requirements. They also meet emission standards. So our heavy trucks are completely safe to use for both people and the environment.

Quality Assurance
As an ISO9001:2000 certified heavy duty truck manufacturer, we have focused on producing high quality vehicles since our beginning. We have established a thorough quality control system which monitors each phase of manufacturing, from raw material selection, through production, to the delivery to our customers. This helps us ensure the quality of our tractor unit, dump trucks, and cargo trucks.
Product Development
At SAIC HONGYAN Automotive Co.,Ltd, we continue our research and development of new heavy duty trucks, to satisfy every customer's requirements in the ever changing trucking industry. For instance, we utilize internationally-advanced IVECO prototype vehicle technology to develop IVECO brand vehicles to meet the demands of our high-end market. Combining IVECO technology and original Hongyan product technology, we also develop practical, safe, and cost-effective Hongyan brand heavy duty trucks. We strive to provide exceptional heavy duty trucks to both our domestic and international markets.
Service
We are dedicated to providing customers with professional and considerate service so their trucks run smoothly and their business stay profitable. We offer a warranty on all of our products, and we also can provide samples of our heavy duty trucks to you to help you to choose the best products for your needs. In addition, our team of highly trained technical support engineers and sales technicians will help you solve any problem you may encounter when buying or using our tractor unit, dump trucks and cargo trucks.
Explore our website for more details on our products and services, or contact us for personal service. We look forward to working with you.