Hongyan XinDaKang Euro II 8×4 Dump Truck
This product has been discontinued and removed from our shelves.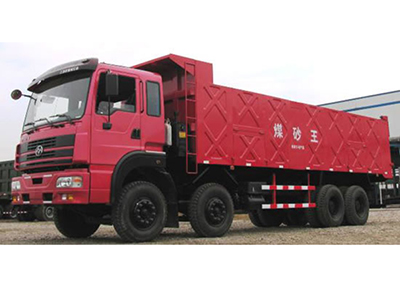 Our dump trucks 8×4 includes Hongyan XinDaKang Euro II dump truck, Hongyan Tampa Euro II dump truck and Hongyan Genlyon National III dump truck. These products utilize German ZF steering gear. Hongyan XinDaKang tipper is equipped with WD615.44 (330Hp) engine, while Hongyan Tampa tipper adopts an engine whose model can be WD615.44, WD615.46, WD12.336, WD12.375. Hongyan Genlyon tipper is equipped with a European style flat top cab. Besides, its double reduction driving axle features large torque and high drive efficiency, and its single axle can carry maximum load of 40t.
Technical Parameters
Hongyan XinDaKang Euro II 8×4 Dump Truck
Model
CQ3303TPG366
Driving type
8×4
Total mass kg
30000
Curb weight kg
15000
Rated loading weight kg
14870
Wheelbase mm
1800+3600+1350
Outline dimensions mm
Length
10190,10310
Width
2500
Height
3640
Max. internal dimensions of body mm
Length
7200,7400
Width
2300
Height
1500,1300
Max. speed km/h
80
Max. gradeability %
45
Fuel consumption under certain conditions L/100km
32
Engine model
WD615.44(330Hp)
Clutch
Single plate large diaphragm spring Φ430mm clutch
Transmission
9JS135
Cab
Hongyan XinDaKang cab
Number of steel plate spring (front/rear)
Left14 right 13/ left 14 right 13/12
Steering gear
German ZF CQ8111D rotary valve steering gear
Driving axle
Full floating, double reduction with differential Steyr cast steel driving axle
Frame
Outside width 865mm, longeron cross section 317x80x(8+8)mm
Tire
11.00-20, 12.00-20
Emission standard
Euro II
SAIC HONGYAN Automotive Co.,Ltd is an established dump truck manufacturers in China. Our primary products include tractor trucks, cargo trucks, and special trucks. These products are manufactured using advanced technology and equipment, and are fully in accordance with related environmental standards. Therefore, they are very popular with customers worldwide.
Please feel free to contact us if you have any questions about heavy duty trucks. Welcome!